The sustainable alternative bottle for your home cleaning and personal care needs
16oz Reusable Cleaning Hybrid Paper Sprayer Bottle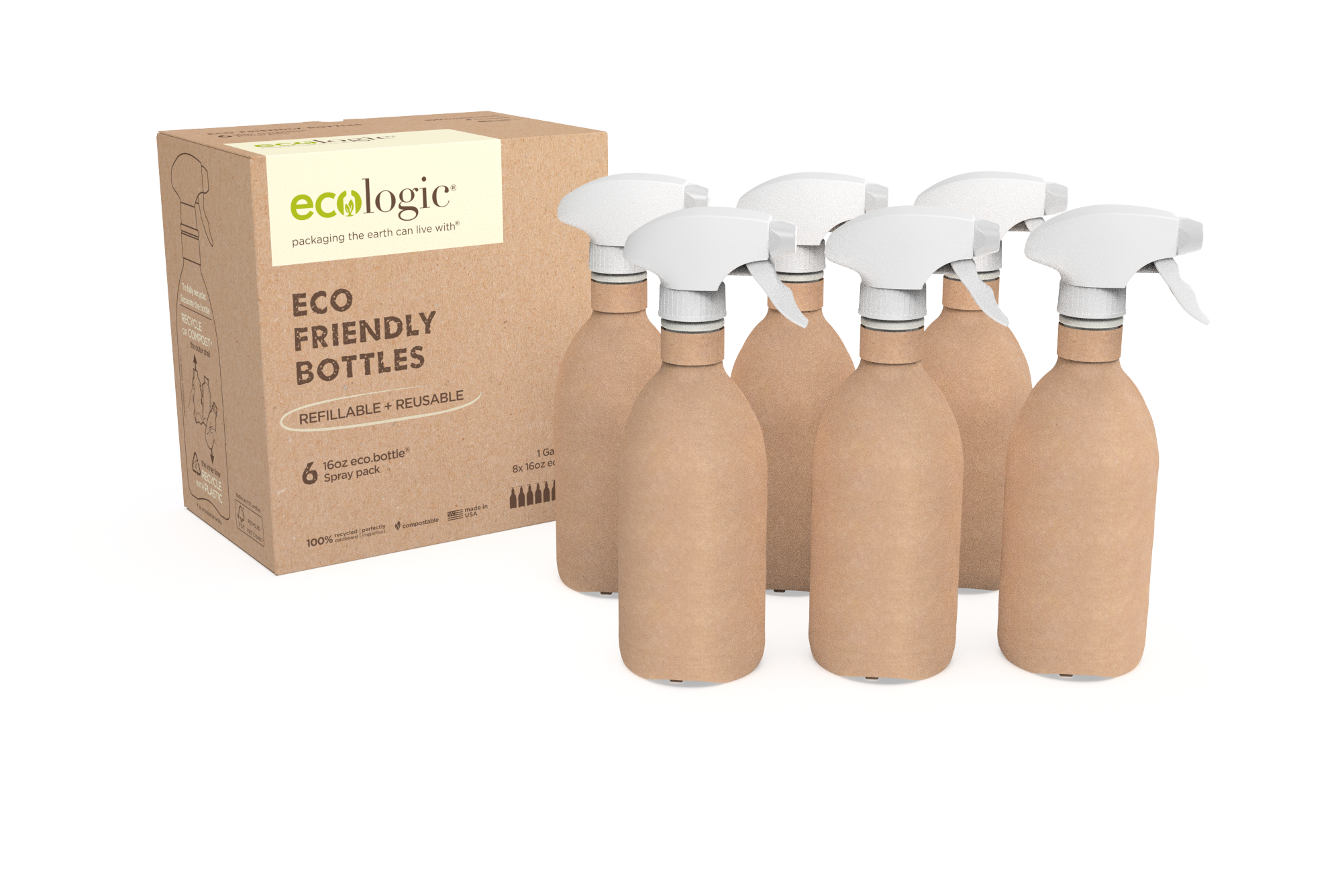 Why Ecologic?
The Eco-Friendly Choice
The 16oz eco.bottle® uses up to 70% less plastic than the traditional container of the same size and does so by using a thin plastic inner liner and a 100% recycled fiber outer shell. This reduces your carbon footprint and reliance on single-use plastics, connecting you to a more sustainable lifestyle, one eco.bottle® at a time.
Customize & Decorate
The recycled paper shells of the eco.bottle® create the perfect canvas for customization and decoration. Personalize your bottles with markers, colored pencils, paint or stickers. The perfect arts and crafts activity for classrooms, youth groups and weekends at home.
Safety First
Our water-resistant bottles use less plastic than other options on the market but are also safer around the house than glass. Eco.bottles are shatterproof, making them a smart choice for classrooms, workshops or homes with young children, pets or adults with reduced mobility.
Natural Aesthetics
Warm hues and a raw, natural texture beat the look and feel of plastic any day. Feel good about your cleaning and care routine with bottles that leverage recycled content while complementing your home décor.
Support Breast Cancer Prevention Partners
Three cents per every selling unit of Ecologic by Jabil products sold directly to retailers for onward sale to end-consumers annually based on Jabil's fiscal year are donated directly to Breast Cancer Prevention Partners, with a minimum donation guarantee of $3,000 annually.
Ready to make your own cleaning and personal care products?
Get started with toxic free recipes, provided in partnership with Breast Cancer Prevention Partners
TANGIBLY SUSTAINABLE
According to the US Environmental Protection Agency, less than 10% of plastic is actually recycled and the rest piles up in landfills and oceans. This is why Ecologic Brands emphasizes reducing plastic material at the source.
On the other hand, around 90% of fiber-based paper products are recycled. Why not use paper, a renewable, compostable, and easily recyclable material?
Ecologic Brands never fuses or binds materials together in our manufacturing process so that recyclability of paper bottles can be maximized. Traditional packaging like juice and milk cartons are made of laminated layers that make recycling difficult and expensive.