Original Story: The Business Journals
By Anne Stych
Original Story: https://www.bizjournals.com/bizwomen/news/latest-news/2018/01/her-eco-friendly-packaging-keeps-plastic-out-of.html?page=all
A zero-waste lunch policy at her daughter's elementary school inspired a California entrepreneur to launch an environmentally-friendly packaging company that has kept more than 350 tons of plastic out of landfills in the past 10 years.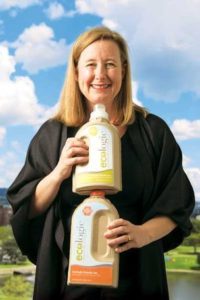 Julie Corbett understood that packing sandwiches in reusable containers could make a small difference in the world, but she wanted to take the concept further, Modern Farmer reported. She took a look around her household and observed that many things — from food and drinks to cleaning supplies — were packaged in non-biodegradable plastic.
She set out to create a more environmentally-friendly bottle that used less plastic and reduced carbon emissions but still stood up to everyday use.
In 2008, Corbett launched Ecologic Brands, a company dedicated to "creating a more sustainable world through better packaging choices," in Manteca, California.
The company developed the eco.bottle. The container's outer shell is made from recycled cardboard and newspaper that can be recycled again after use or composted if no recycling services are available.The thin inner liner is made of 100 percent recycled plastic.
The company says the imperfections that come from using recycled plastic give each bottle its own "personality."
After a successful trial partnership with a local dairy and an Oakland Whole Foods location, Corbett attracted clients such as Seventh Generation and Nestlé.
But the company was struggling to keep up with demand and scale the business when L'Oreal came looking for environmentally-friendly packaging for a new product line, per Modern Farmer.
The cosmetics giant wanted recyclable and compostable packaging for its Seed Phytonutrients line that could still be used in a hot shower without disintegrating.
The companies partnered to develop packaging concept to meet those requirements, with L'Oreal providing funding. Seed Phytonutrients products are packaged in an Ecologic water-resistant paper bottle lined with food-grade recycled plastic that's 60 percent thinner than typical plastic bottles.
Based in Doylestown, Pennsylvania, L'Oreal's Seed Phytonutrients produces synthetic-free shampoos and hand salves using extracts of organically-grown seeds.
A global analysis published in July showed that of the 8.3 billion metric tons of plastic that have been produced in the past six decades, 6.3 billion metric tons have become plastic waste, National Geographic reported. Only nine percent has been recycled.
https://www.bizjournals.com/bizwomen/news/latest-news/2018/01/her-eco-friendly-packaging-keeps-plastic-out-of.html?page=all
GO TO SITE